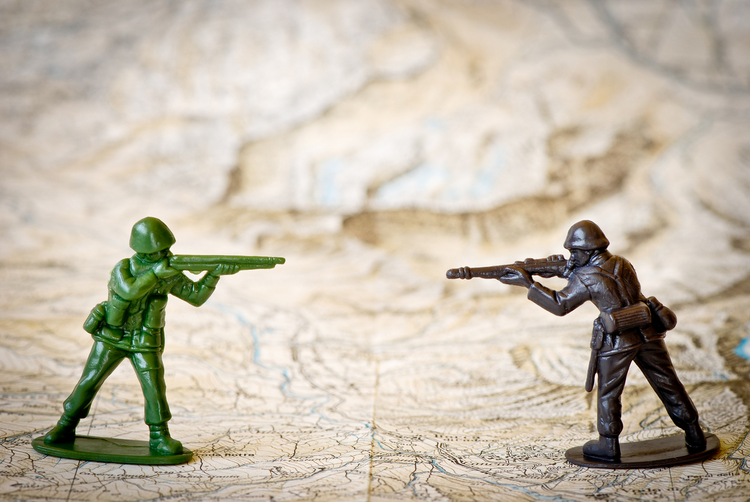 The official and well known accounts of the Pakistan's operations in the spring of 1999 in the Kargil–Dras sector of J&K is that Islamabad "undertook this misadventure with sinister plans to capture India's land". And as Modi said this morning, "it is the nature of the wicked to have enmity with everyone for no reason."
The war-machine needs to constantly paint the official enemy of the day as nonredeemable evil. So, the facts that do not fit this pictures should be kept out of the sight of the public. Facts like Islamabad did not know about the Pakistan Army's plans. And that India and Pakistan both engage in local land grab operations that are not officially authorized. And also that India in 2001 was planning a much bigger land grab operation that was only foiled by attacks in New York and Virginia by al-Qaeda.
The realization that we are no different from the "wicked" and that we too have our "sinister plans" is not conducive for war mongering.
All of the following material is taken from Happymon Jacob's important study of ceasefire violations along LOC, Line on Fire.
1. Jacob's says that "Pervez Musharraf's former colleague, Lt Gen. (Retd) Jamshed Gulzar Kiani, once stated: 'I am not sure from where he (Sharif) came to know, but it wasn't through the army and the Kargil operation was kept secret from Nawaz Sharif.' Sartaj Aziz, a minister in Sharif's cabinet, also confirms this in his book."
Pakistani Army's plan was to apply the finders keepers rule during the winter when Indian forces left their posts. There was only a tacit understanding and never an agreement that both sides would disengage the posts during winter. Jacob says that, "the Kargil operation was initiated as a series of limited tactical actions that normally would not require prior political authorization. But, spurred on by the local and personal ambitions of a very small coterie who did not foresee battlefield dynamics, this limited objective ballooned into an unintended and unplanned strategic provocation, something the military leadership suddenly found as being untenable. It is possible that the political leadership came into the picture at this stage, and without an understanding of the gravity of the situation, endorsed further actions."
Pakistan did want to change the status quo and if successful would have cause more loss of lives and the conflict might have expanded to other sectors, heightening the nuclear risks. But the fact is it was not a "sinister plan" of Pakistani government but a military tactical operation, to gain more bargaining power over India, that by their calculations went wrong.
2. Jacob quotes Force magazine's Pravin Sawhney's 2014 article which says that "on 22 January 2000, fighting in the Chhamb sector left 16 Pakistani soldiers dead. While both sides blamed one another, the truth was that Indian troops, in strength, attacked a Pakistani post and overran it. Similar instances occurred in Akhnoor, Mendhar, Kotli, Naushera and Pallanwala between January and August 2000." Jacob adds that, "during the previous year (2000), local units of the (Indian) army, with the tacit understanding and green signal from the army's higher ups, had 'adopted a calibrated offensive action across' the LoC 'to sanitise areas of infiltration' on the Pakistani side."
These were land grab operations which "by either side along the LoC in J&K is nothing new" Usually small scale but sometime medium scales. One of such medium scale Ops was Pakistan's Kargil attempt and the other was Indian Op Kabaddi.
3. Op Kabaddi was primarily planned by the GOC-in-C of Northern Command of the Indian Army, Gen. Nanavatty. It would "include a wide spectrum of evolving punitive operations such as the execution of deliberate fire assaults to destroy military and terrorist points, and area targets across the LoC; ambushes and raids across the LOC; and company, battalion, and brigade-sized deliberate offensive attacks to capture objectives of tactical importance across the LoC that would improve the Indian Army's counter-insurgency (CI) posture."
When Jacob asked 'How was the 2001 operation different from the Kargil operation by Pakistan?' Gen. Nanavatty responded, 'Not very different.'
The Operation, given its flexible nature had no start or end date but was supposed to start soon after 1st Sept 2001. The green light from Delhi came hours before the Twin Towers fell. And given Pakistan's role under USA's Afghan policy the Indian Army decided not to go forward.
Nanavatty told Jacob:
"With the world, including Pakistan, seemingly united in its anti-terror stance, any unilateral military action by us against Pakistan would be viewed unfavorably by the international community and be seen as taking advantage of the situation to settle scores on the side lines. I did not recommend the launch of offensive operations until the situation became clearer."
International pressure and al-Qaeda stopped India from initiating an offensive land grab Op., while the Kargil campaign, at least initially, was targeted at an empty and limited posts.  Jacob and I am sure any one who thinks about this will wonders how would have things developed if Operation Kabaddi was not aborted. Would it have creeped into conflicts in other sectors? What about nuclear risks?
When we look beyond the "reality" conducive to state interests it is hard to find anything more "wicked" and "sinister" than the realization and the preparation of War.